Reading time about 16 min

We've rounded up the best web push notification services to make it easier for you to choose the right notification platform for your business.
Want to add these short messages that pop up on the screen when browsing? You need a web push notification service to bring messages to the browser.
They're often also referred to as browser push notifications since they work just as well when browsing on mobile devices as they do on desktop web browsers.
Support for web notifications varies across different browsers and device types. They generally include a headline, body text, an icon, CTA buttons, and sometimes a banner image.
What push notification providers do
Push notification campaigns are the most cost-effective marketing tool for any business with a growing online presence.
Browser notifications, in particular, have a much higher click-through rate than paid ads because customers actively subscribe to content they want.
They're also free from technical issues like soft bounces and blacklistings that often undermine email marketing campaigns.
They also don't get filtered away as spam.
To give you a better picture of how useful push notifications are, here's a snapshot of some real-world use cases:
Online Stores use push notifications to run real-time promotions like flash sales
News Outlets notify their subscribers of the latest breaking news
Agencies share content highlights as part of their marketing funnel
Bloggers organize live streams and online events to improve customer engagement
Startups can plug in transactional messages to deliver service announcements
In short: push marketing is a tried and tested way to increase customer retention and boost conversion rates.
If you're still on the fence about adding push notifications to your marketing arsenal, we've got plenty of push notification examples that you can adapt to your business needs.
But to fully take advantage of the potential that push marketing has for your business, you'll need a push notification service.
The benefits of a push notification service
Push notification platforms all have one thing in common: they let you trigger push campaigns based on set conditions.
These conditions could be actions that your customers take like adding an item to a wish list or abandoning a shopping cart.
Or they could also respond to attributes drawn from user data, like purchase history and web page visits.
With a little creativity, you can craft highly targeted push campaigns and boost user engagement and retention.
Here are some of the many features you'll get access to when you adopt a notification service to help you manage your push marketing campaigns:
Automated push campaigns
Customer segmentation
Personalized messaging
Onsite and offsite timing
Custom opt-in prompts
Cross-browser support
A/B notification testing
Tags and categories
Analytics and reporting
Omnichannel marketing
CRM integrations
If you'd like to explore the potential benefits in greater depth take a look at our beginner's guide to web push notifications.
Top push notification services
You can connect your website to a push notification service through a one-click plugin (for CMS websites like Shopify and WordPress) or by adding in a couple lines of code.
To make your search easier we've put together a handy list of the best push notification services for your business.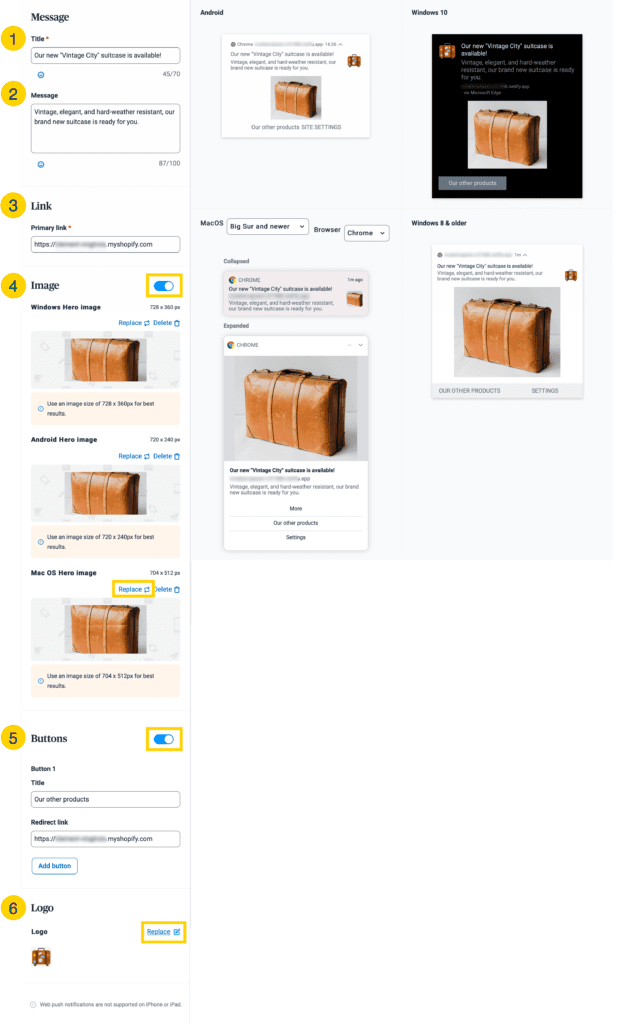 Previewing different formats for push notifications available in Brevo
Price: (Free) 500 impressions per month, (Paid) $9/month for 10,000 impressions
Supports: Web Push Notifications
Best For: Small businesses
After the acquisition of PushOwl, one of the best push notification services for Shopify out there, Brevo offers web push notifications as yet another marketing channel on its platform.
Installation's easy: you can copy a bit of JavaScript to your website, use our ready plugins for ecommerce platforms, or use Google Tag Manager. Setting up takes just a few minutes.
Then, creating your push notification campaign is also intuitive. Customize the look, message, branding and links, then decide how often to show it to people.
Brevo also makes it easy to collect opt-in contacts who allow browser notifications (just like an email opt-in list). After you've scheduled and activated your campaign, you can monitor it in real time.
Pro Tip: Brevo also offers WhatsApp marketing and SMS messages for your business needs.
With Brevo's push notification service, it's easy to set up beautiful push notifications promoting your business in client's browsers when they're not on your website. Grab their attention and re-engage them with timely offers and exciting news. Try 500 impressions on Brevo's free plan.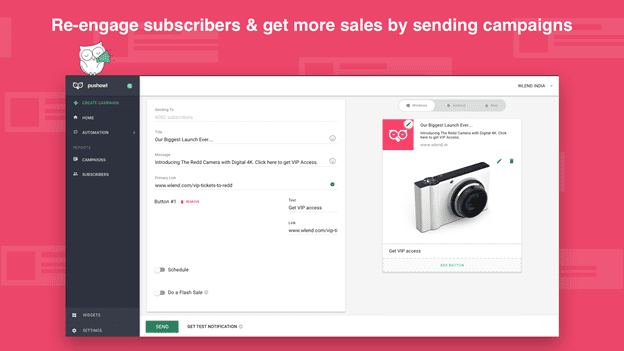 Price: (Basic) Free for up to 500 impressions per month, (Premium) From $19 / month for 10,000+ impressions.
Supports: Web Push Notifications
Best For: Ecommerce
PushOwl is a push notification provider built exclusively for ecommerce websites. Its Shopify plugin lets you set up and optimize push marketing campaigns in less than a minute.
Online stores that use PushOwl have everything they need with ready-made automations including flash sales, price drops, back-in-stock alerts, and cart abandonment alerts.
Unlike other competitors, it doesn't charge you for the number of contacts in your list. Instead, it bases its pricing on how many impressions your notifications receive.
If you have a Shopify store, look no further.
3. One Signal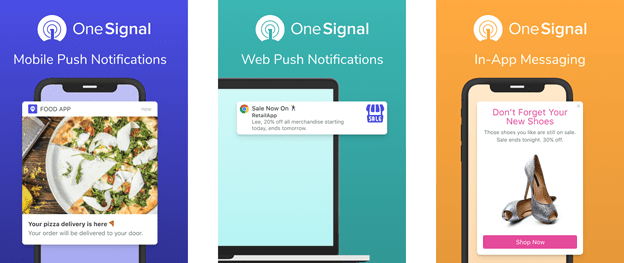 Pricing: Free for up to 10,000 subscribers, (Growth) $9 / month + $3 per 1,000 push subscribers / in-app impressions, (Professional) $9 / month + $3 per 1,000 push subscribers / in-app impressions.
Supports: Web Push Notifications, Mobile Push Notifications, In-App Notifications
Best For: Startups
OneSignal is the most high-ticket push notification service on this list. It's used by companies like Uber, BetterMe, and Adobe. It lets you reach both browser push subscribers and app push subscribers. It also has contextual in-app notifications.
There are many integrations with analytics, ecommerce, CRM, and marketing tools including Amplitude, Mixpanel, Segment, HubSpot, Shopify, WordPress, and more.
Additional support, however, does cost extra.
Its biggest caveat is that it sells your data to advertisers. You can, however, pay a premium to protect some of your privacy.
If you're a startup looking for a free, full-featured web notification tool and don't mind having your personal data sold off, then they're a good pick.
4. Push Engage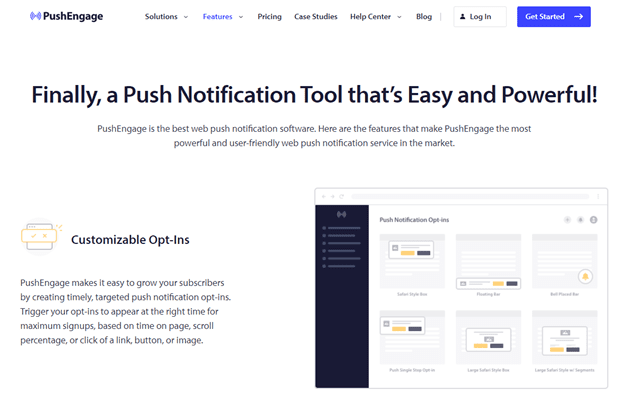 PushEngage is built for marketing teams.
Its hefty marketing automation suite includes opt-in reminders, A/B testing, drip campaigns, triggered campaigns, and interactive messages.
Its customizable opt-ins give you a variety of ways to ask website visitors to subscribe to your push notifications.
PushEngage's standout features are reporting and analytics. You can set revenue goals for specific campaigns and track the growing transactional value in real-time.
This makes measuring the ROI for each push campaign super simple.
If you're an agency that wants to run push campaigns backed by metrics then PushEngage is a good choice.
5. Aimtell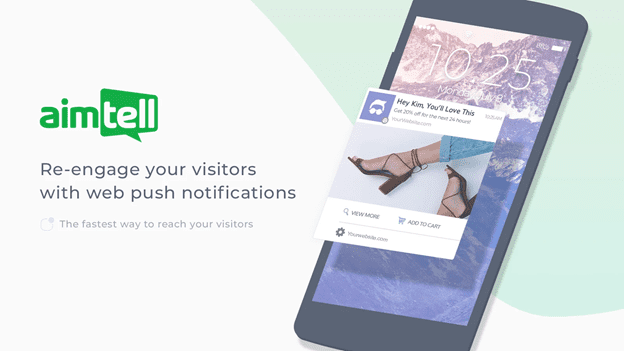 Price: (Basic) $49/month for 10,000 subscribers, (Plus) $99/month for 50,000 subscribers, (Pro) $199/month for up to 100,000 subscribers
Supports: Web Push Notifications
Best For: Ecommerce
Aimtell goes a little further than other push notification services when it comes to highly personalized push messaging.
You can fine-tune your push notifications based on locations, page views, shopping history, wish lists, and more. Re-engagement is its forte.
If you'd rather not have your subscribers see time-sensitive notifications after they've lost their relevance, you can give them an expiration date.
Aimtell gives you the option to run adverts (and get paid) by its network of advertisers.
It also offers a full-service marketing solution which means they can also do all the heavy lifting, if you want them to.
6. WebEngage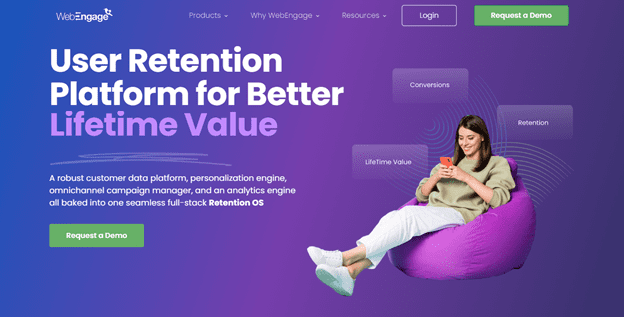 Price: Custom
Supports: Web Push Notifications
Best For: Agencies
WebEngage is a multi-channel marketing automation software that supports multiple communication channels, including browser push notifications, mobile push notifications, email automation, instant messaging conversations, and more.
You get a data-driven model to engage off-site users.
Web Engage is compatible with every operating system (Android, iOS, Apple, and Windows) and every browser (Chrome, Safari, Firefox, Opera, and Edge).
Its feature suite includes dynamic templating, in-depth user-specific analytics, and test notifications you can use before launching campaigns. With its broad toolset, you build all sorts of campaigns (triggered, recurring, transactional, and so on).
Web Engage packs a lot of features and is a favorite among creative agencies.
7. iZooto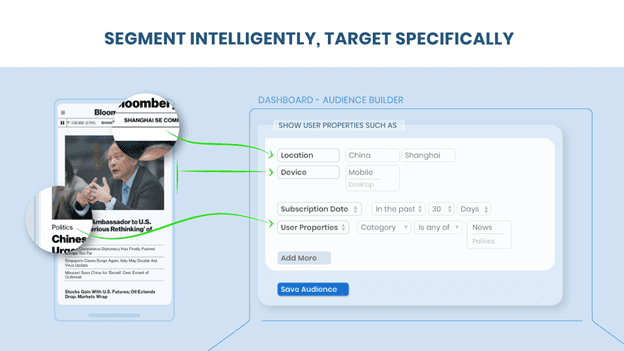 Price: (Rise) $85/month for up to 30,000 subscribers, (Grow) $250/month for up to 30,000 subscribers
Supports: Web Push Notifications, App Push Notifications
Best For: Media Publishers
Izooto supports a wide range of browsers and devices. It also provides multi-language support, depending on where your audience is located.
Its service mainly caters to content-heavy media publishers like online magazines and news outlets.
Izooto retargets users across multiple sites and encourages them to return to your website to continue browsing more content. You can also make use of its built-in call to action, which allows users to sign in or register for your site.
If you have multiple sites that cater to different regions, time zones, and languages, then Izooto is well suited for your needs.
8. SendPulse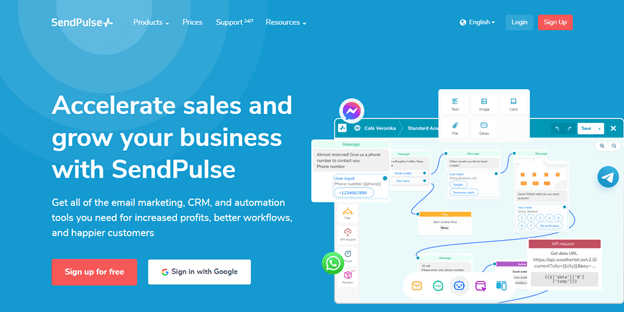 Price: (Rise) $85/month for up to 30,000 subscribers, (Grow) $250/month for up to 30,000 subscribers
Supports: Web Push Notifications, App Push Notifications
Best For: Marketplaces
SendPulse excels at converting the average online window shopper into a lifetime customer.
It supports all browsers and devices and as a full-featured marketing platform, it focuses on increasing subscriptions overall, including web push, email, and SMS.
Notifications can be tailored to user behavior patterns. If a person is looking for a T-shirt, for example, a custom push message will inform them of your T-shirt rates.
Sendpulse is a great choice for marketplaces and online retail chains.
9. PushAssist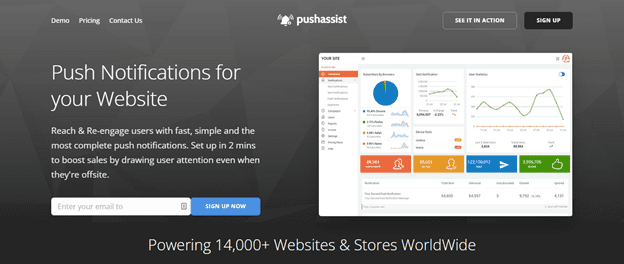 Price: Basic Plan for free, Starter Plan for $9/month, Business Plan for $25/month, Enterprise Plan for $299/month
Supports: Web Push Notifications
Best For: Small Businesses
PushAssist lets you start sending out notifications in minutes after signing up.
The easier something is to accomplish, the more likely you are to do it. This is true for PushAssist, a browser notification service noted for its ease of use.
It works with all browsers and devices and integrates seamlessly with WordPress, Drupal, and other platforms.
PushAssist allows you to track the progress of your campaign in real-time. Their clickstream data is precise and the corresponding performance reports are easy to consume.
Its smart segmentation is also unique. It combines user behavior with other indicators like location, age, and language, to reveal potential market opportunities that may have otherwise gone unnoticed.
PushAssist is ideal for businesses that want to scale their ecommerce businesses globally.
10. PushWoosh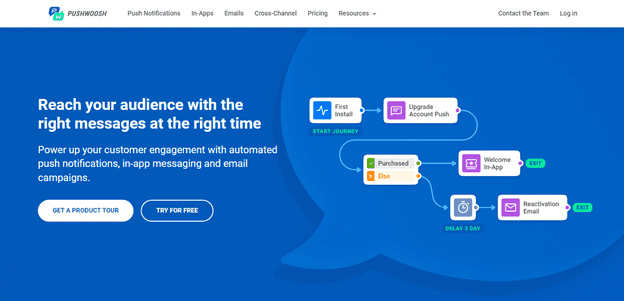 Price: Custom Pricing
Supports: Web Push Notifications, In-App Notifications
Best For: Startups
PushWoosh helps you send personalized, multimedia-rich notifications.
Your subscribers will always receive notifications in their native language thanks to automatic multi-language support. Its customer segmentation uses an intuitive funnel system to connect user actions and interests with well-timed notifications.
You can also choose the frequency with which notifications are sent. Real-time analytics help you modify your push campaign while it's still running.
PushWoosh is a great choice for fast-moving startups that want to stay ahead of the curve.
11. VWO Engage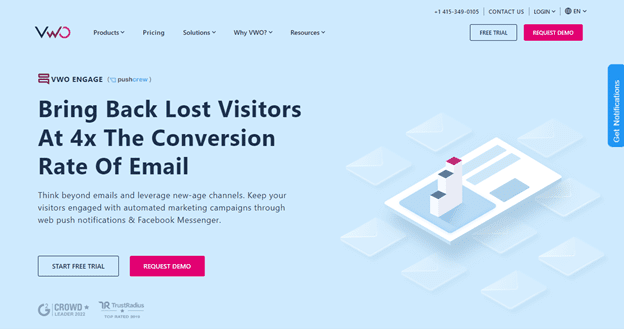 Price: Custom Pricing
Supports: Web Push Notifications
Best For: Retail
VWO Engage lets you send notifications to a diverse audience that includes Facebook Messenger, to ensure a high click-through rate.
You can send out customized notifications that include vibrant images. Contact management is included, which simplifies audience segmentation for businesses that regularly import customer data from in-person engagements.
VWO gives brick-and-mortar businesses a simple solution to steer shoppers towards more online purchases. Their more advanced analytics services, like VWO Insights & VWO Deploy
Retail chains will find a solid choice with VWO Engage especially when paired up with VWO Insights, its advanced web analytics platform.
12. Wigzo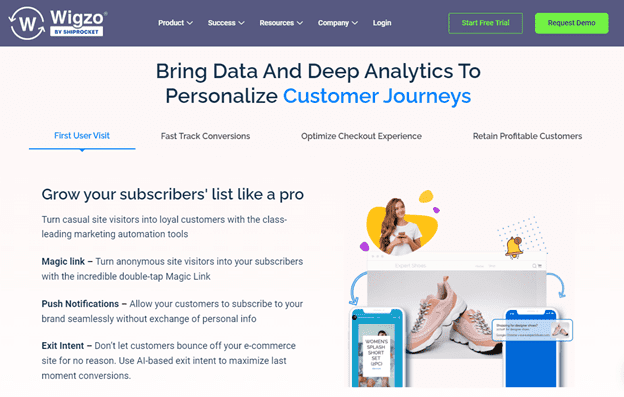 Price: Custom Pricing
Supports: Web Push Notifications
Best For: Ecommerce
Wigzo is one of the top marketing automation suites. It specializes in email and browser notifications.
Campaign segmentation, contact management, direct mail management, and more cross-functional tools are included.
Its highly customizable opt-in prompt is one of its most useful features. Wigzo allows app developers and website owners to control how subscription solicitations are triggered.
Wigzo is for ecommerce businesses that want to merge their email marketing and web push campaigns.
13. FoxPush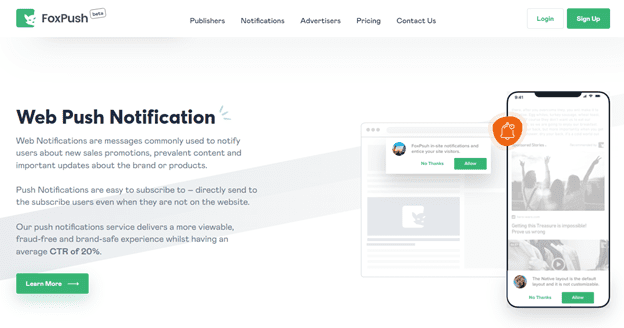 Price: Custom Pricing
Supports: Web Push Notifications
Best For: Ecommerce
FoxPush is one of the most widely used push notification services. It assures its customers of a CTR of 30% on average, which is huge for any website.
FoxPush works with all major online browsers and mobile devices. Emoji support and geo-country targeting are included in their premium offer, which is useful for location-based marketing.
If higher subscriber rates are your end goal then FoxPush is the right choice for your business.
Related: 5 Best Appointment Scheduling Apps for SMBs
Choose your push notifications service
Push marketing gives you the opportunity to re-engage with your audience, and with the way online marketing has developed, staying in contact with your target audience is more important than ever.
Start using push notifications with Brevo
Quick & easy installation, 500 free impressions/month, fully customizable design and display settings, live performance tracking.