Social media platforms have proved to be very helpful for promoting small businesses.
Did you know that there are about 1.52 billion daily active users on Facebook? Just imagine how much attention your business can get if you learn how to take advantage of this powerful network.
As a small business owner, you don't need any "social media specialist" to manage your Facebook page and engage with your users.
What you need is the right type of content to approach your target audience and your followers.
If you are ready to turn things around and use your Facebook page as an effective marketing tool, the following examples of different types of content will help you to achieve just that.

1. Tell Stories
The reason why people love stories is that they can relate to them or probably have a similar story or situation that they're going through. This type of content will allow you to connect with the users on a personal level.
Having an emotional bond with your followers is what will help you to be remembered and differentiated from the others. Most business pages on Facebook solely focus on more professional posts so you should add a more personal element.
Tell stories about your beginnings, about your team members, let your audience know about funny anecdotes that happened in your small business, or share with them any thought-provoking story that comes to your mind. Allow them to get to know you and your business.

2. Trending Topics
There is no reason why you shouldn't get some use of trending topics.
I don't know if you are aware of this or not but the news feed algorithm will reward posts that are about topics trending on Facebook.
If you know your customers will be watching the football match, you can post content around this, and ask which team they'll be supporting or what result they predict.
Here's a great example by "Funky Buddha Brewery". They showed their new product on Valentine's Day and gathered some hype.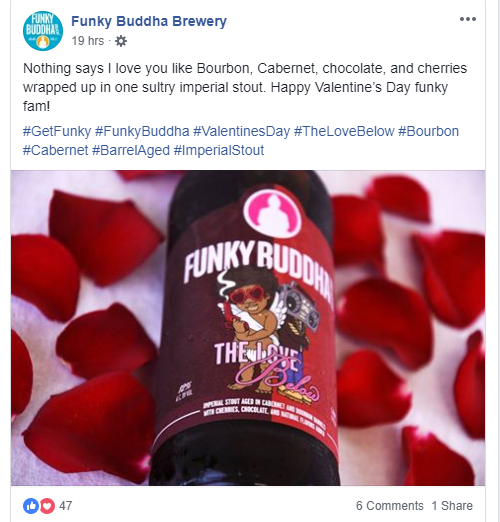 You can even use apps such as PostPlanner, Sendible, and a list of writing services to find trending topics and authors to write about them.

3. Images
We all have that one person in our Facebook friends list who we don't really know that well but we feel like we do because of his or her regular image posts on Facebook. We even kind of get fond of that person if their posts are interesting enough.
Well, you should apply this strategy to your business page. Post images regularly so that the users eventually get the feeling that they know you and develop some sort of connection with you.
You can have different approaches to this strategy, depending on what depicts your business the best. For example, you can post a daily picture with a motivational quote or you can post a daily picture with a piece of advice which is related to the type of service you provide.
"Fearless Motivation" are great at utilizing this type of content.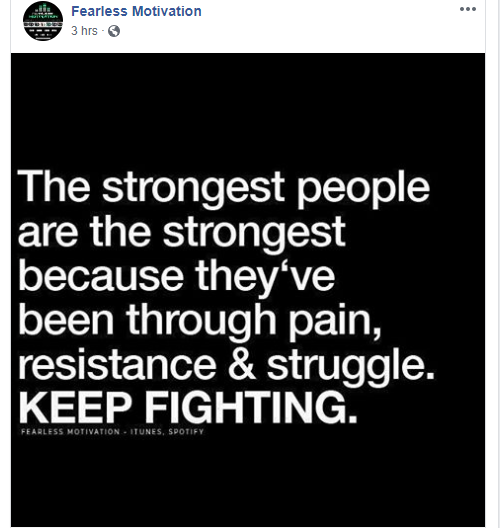 You can even entertain your audience by posting funny pictures you find on the web. Just include a funny caption and make them remember your brand name.
4. Video Content
This type of content is currently in high demand and 43% of users expressed that they would like to see even more video content from marketers.
Elisabeth Harrell, a marketing specialist at GetGoodGrade.com explains this further: "Videos appeal to the users' visual senses and considering that everything revolves around aesthetics these days, this type of content will hit the spot."
Here are some types of interesting videos which you can publish on your Facebook page:
Tutorials
Behind the scenes
Presenting the new product
Meet the team video
Testimonial video
Live streaming
Announcements about the brand
Just make sure that the title of the video is captivating so that it instantly attracts users. Use titles such as "Look what Mark did!" for behind the scenes or "This is what you have been waiting for" for presenting a new product.
Titles which build suspense and have a bit of mystery in them are always the best. Check, for example, how Be Fit Motivation engage their followers with regular video content.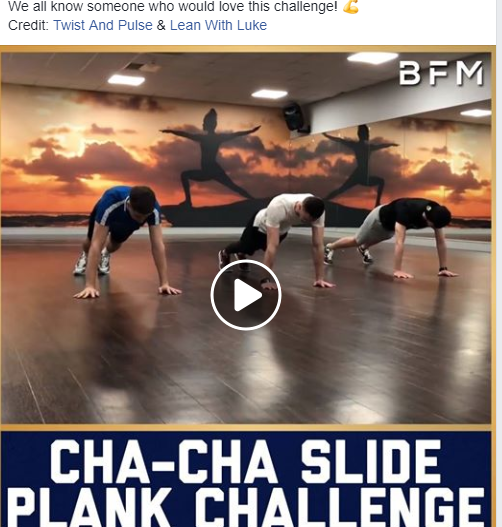 5. Engaging Content
One of the elements of great customer service is caring about what your customers think. People love to share their opinions which is actually one of the reasons why Facebook is so popular.
Incorporate this into your Facebook posts by letting your followers become a part of your team.
Ask them important questions about how you can improve a certain part of your service, let them give suggestions, and build a relationship with them.
If people hear that your page allows them to share their opinions and get a response in return that will definitely add more value to it.
In case you need some inspiration for what type of engaging content you can publish, take as an example Burger Revolution. They included their customers in the creation of their product by allowing followers to name their burger of the month.
Dexter Payne, a social media marketer at Best Writers Canada shared another example of great audience engagement, "It always moves me when I see a business which loves to give back.
It's a win-win situation actually. You get a chance to help someone in need and get involved with your local community and engage customers as well.
For example, you can involve your audience with a "Give Back" campaign like O.H.S.O. Brewery which recently launched its campaign that gives back to nonprofits for every pint sold."

Over to You
The reason why you should use these different types of content is to attract different users and keep your feed interesting. If you know how to entertain and connect with your followers, the growth of your page is inevitable.
Further reading: How to Create and Manage Facebook Ads that Drive Conversions – The SendinBlue Guide
Want to try our new Facebook Ads Management feature ? Check our subscription plans !