Boosting Your Email Marketing KPIs
Learn the key factors that affect your email marketing performance. Get tips on how to write and design your emails to maximize your open rate and clicks, so that you can get more conversions and boost revenue for your email marketing campaigns! This is Module 7 of our Email Marketing Course in our brand new Brevo Academy.

30 Minutes
6 Videos
4 Questions
Be aware of the key components that affect the delivery rate of your emails.
Understand the impact that your sender name, subject line, sending time, and sending frequency have on the open rate of your emails.
Learn how to design your emails and newsletters to maximize clicks.
The Email Marketing Conversion Funnel
1:34 min
In this video, you'll learn about the conversion funnel for email marketing. In order to improve your email marketing metrics, it is necessary for you to first understand how the funnel works, and what the average baseline metrics for delivery, open rates, and click rates are.
Optimizing Your Delivery Rate
4:35 min
What is the point of your email marketing efforts if your emails don't even get delivered? In this video you will learn what you need to do to improve your email delivery rate. Practicing good list hygiene is just one of the best practice examples you will learn.
How to get a dedicated IP in Brevo
1:03 min
If you are sending a high volume of emails you will need to send your emails through a dedicated IP address. In this video you'll learn how to purchase a dedicated IP in Brevo to improve your deliverability rate.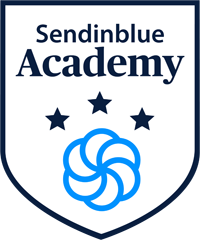 Ready to put your email marketing skills to use?
Create your free account at Brevo and prepare for takeoff!
Sign up free
Optimizing Your Open Rate
5:59 min
If you want to get your message out to your readers, the first step is to get subscribers to open your emails. In this video you will get expert tips on how to increase the open rate of your newsletters. You'll learn how to choose the right sender name, craft an eye-catching subject line, send at the best time, and much more.
Optimizing Your Click Rate
13:33 min
Getting a high click rate is crucial for your email marketing success. In this video you'll learn about the 7 important factors that have a positive impact on your click rate. You will learn what "above the fold" means, how to set the right context for your CTAs, how to select the right content and images, and how to use personalization in a meaningful way. We will also show you what you should pay attention to in responsive design.
Optimizing Your Unsubscribe Rate
2:51 min
It is perfectly normal that not all of your recipients will remain permanent active readers of your newsletter. Newsletter unsubscriptions are therefore completely normal. The important thing is that your email list continues to grow and does not shrink in size. In this video you will learn how to minimize your unsubscribe rate, as part of the regular activities you should undertake to ensure this continued growth.
Time for your quiz!
Let's test what you've learned in this module.
Take the quiz
Ready to get more expert knowledge?
OR