Data Protection in Email Marketing
Learn the basis for GDPR-compliant email marketing. In this module we will guide you step-by-step through the legal requirements marketers have in relation to the GDPR and how you can implement them correctly. You'll get a checklist of actions needed before sending, as well as a summary of the information that needs to be in every newsletter footer. Also, using practical examples, we show you exactly how to create a GDPR-compliant subscription form and double opt-in email. This is the third module of our Email Marketing Course in our brand new Brevo academy.

25 Minutes
4 Videos
4 Questions
Understand the requirements of Data Protection in Email Marketing.
Know how to implement the legal requirements for creating a GDPR-compliant signup form and double opt-in email.
Avoid the common errors in GDPR compliance.
General Information on Data Protection
4:56 min
If you want to start with email marketing and do it correctly from the very beginning, you should check the legal requirements for data protection that are required in your recipients' countries. In this video we will give you a brief overview of the different legal requirements that exist so you are aware of your duties.
What is the EU GDPR?
3:53 min
The GDPR (General Data Protection Regulation) went into effect on May 25, 2018 in the EU. If your recipients are based in the European Union, your email marketing needs to be GDPR-compliant, following all of the legal requirements for data protection in these countries. In this video you will learn to whom the GDPR applies and how the regulation defines personal data and data protection so you know how to handle your own contact data correctly.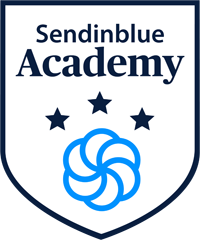 Ready to put your email marketing skills to use?
Create your free account at Brevo and prepare for takeoff!
Sign up free
How to Follow GDPR Requirements in Your Email Marketing
15:25 min
Now that you have a general grasp on the GDPR, it's time to get to the hands-on tips. What do you need to do in order to follow the legal requirements of the GDPR? This video will guide you through the general requirements, the information required to be included in your email footer, the structure of consent, and the instructions for a GDPR-compliant signup form. We will also show you typical errors to avoid for GDPR compliance.
Data Privacy at Brevo
00:50 min
In order to have a GDPR-compliant email marketing strategy, you need to sign a Data Processing Agreement (DPA) with your email marketing tool. This video will show you how easy it is to sign a DPA with Brevo. It's accessible right in your Brevo's account!
Time for your quiz!
Let's test what you've learned in this module.
Take the quiz
Ready to get more expert knowledge?
OR