Introduction to Brevo
Learn how to create your email marketing account at Brevo to get started with email marketing! This module will give you an overview of all the marketing tools that are waiting for you inside Brevo. We will show you step-by-step how to create your account, add your contacts, create your first campaign, and choose the right plan for your needs. This is the second module of our Email Marketing Course in our brand new Brevo academy.

19 Minutes
6 Videos
4 Questions
Get set up with your own Brevo account.
Decide which plan is the right one for you.
Gain an understanding of all the different tools inside Brevo's email marketing platform.
How to create an account with Brevo
2:59 min
To become an email marketing expert, you need to find a bulk email marketing software you can trust. This video will show you how to do just that by helping you get set up with a free Brevo account within seconds! We will guide you through every step of the account creation process.
How to add contacts in Brevo
4:17 min
Email marketing is nothing without contacts in your database to whom you can send your emails! There are several ways to add contacts to your new Brevo account. In this video you will learn four methods to import your contacts: manually, copy/paste, importing a .csv file, and synchronizing them via a plugin that connects your CRM or ecommerce CMS.
How to create a campaign in Brevo
3:59 min
Creating your first email campaign can be a bit tricky, escpecially when using a new software. That's why we will show you in this video how to create your first campaign in Brevo to help you get started without any problems. You'll get to know the campaign settings, the drag & drop editor, as well as how to properly schedule the send time of your campaign.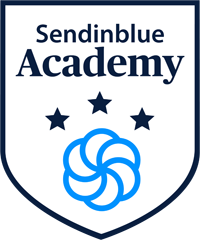 Ready to put your email marketing skills to use?
Create your free account at Brevo and prepare for takeoff!
Sign up free
How to create a sender in Brevo
1:58 min
The sender of an email campaign can have a major impact on the open rate. In Brevo, you can add several different senders in your account to make sure your recipients see the right name and email address according to your message. For example: Emily from YourCompany |[email protected]. In this video you will learn how to create your own senders to start using in your next email campaign!
Brevo Pricing Plans
3:04 min
In this video, you'll learn about Brevo's pricing plans, so you can determine which option best fits your marketing needs and aligns with your budget. Brevo offers four main pricing plans: Free, Lite, Premium and Enterprise. Brevo's pricing plans are designed to grow with you and your business.
Overview of the Brevo apps
2:43 min
Get to know all the functions and marketing tools Brevo has to offer. In this video you will get a preview of all of the different marketing tools you can find in Brevo to help you communicate with customers and grow your business. From email automation to facebook ads, retargeting to chat, and many others, there are plenty of ways to reach your audience with the right message. Get to know them all!
Time for your quiz!
Let's test what you've learned in this module.
Take the quiz
Ready to get more expert knowledge?
OR