The Fundamentals of Email Marketing
Learn all of the fundamentals of email marketing: what are the key concepts of email marketing, why is it important for your business, and what should you look for when choosing an email marketing software. This is the first module of our Email Marketing Certification Course in our brand new Brevo Academy.

23 Minutes
5 Videos
4 Questions
Understand the potential of email marketing as a marketing channel.
Choose an email marketing software that's right for you.
Gain a more profound understanding of email deliverability.
Email Marketing Terms
Do you know all of the different jargon used in email marketing? We created a glossary to help make sure you're never lost when people mention words like "CTA," "deliverability," or "soft bounces."
Go to glossary
Advantages of Email Marketing
3:31 min
What are the benefits of email marketing? Why should you even consider using email marketing to grow your business? This video will give you 8 key advantages of email marketing to show you (or your boss) why you need to get started right now!
Email Marketing Goals
2:20 min
No matter which marketing channel you're planning to use, you need to set some goals before getting started. In this video, we will show you 5 achievable goals that will drive your email marketing strategy forward.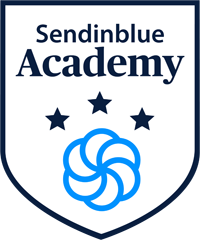 Ready to put your email marketing skills to use?
Create your free account at Brevo and prepare for takeoff!
Sign up free
What is Email Deliverability?
6:21 min
Email deliverability is a complex topic. That's why we're here to break it down for you in an easy understandable way. First, you will learn the difference between email delivery and email deliverability. You will also learn all of the steps that determine how email gets delivered to your contact's inbox after you hit send. After watching this video, you will know all about whitelists, blacklists, and sender reputation — and how they fit together to make up your email deliverability. You will also learn some tips on how to maintain a good sender reputation so you can be sure that your emails are delivered every time!
What do you need from an Email Marketing Software?
8:56 min
Your email marketing software is the foundation of your email marketing success. That's why you should define the key requirements upfront so you can be sure to choose the solution that's right for you and your business. In this video, we will dive into 5 main features every good email marketing software tool should offer, as well as which features are really necessary.
Is Email Marketing right for me?
1:24 min
If you are still unsure whether email marketing is the right channel for you, this video is for you! We will give you a short checklist of 6 criteria to help you decide whether or not email marketing is the right channel for you.
Time for your quiz!
Let's test what you've learned in this module.
Take the quiz
Ready to get more expert knowledge?
OR